Blog
Published: September 21, 2016
As software developers in the present day, we hear about all different kinds of approaches to writing code which end in "DD". You've got TDD, BDD, DDD, FDD, ATDD and probably more. While each of these philosophies has merits of it's own, in this article, I want to outline yet another approach for writing code that ends in DD which I'm dubbing SDD (Scalability Driven Development).
SDD is a mindset that should be used while working out the implementation details for a given problem. Simply put, as you think through a specific approach ask yourself…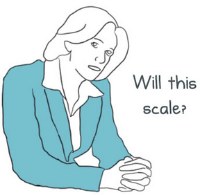 The image above is used ironically in a post titled 10 Tricks To Appear Smart In Meetings, but as a developer, it really is a good question to be asking.
SDD and doesn't prevent you from using TDD, BDD or any other approach you currently employ when writing code.
Let's take a look at real life example and demonstrate how an SDD mindset can be utilized to implement a more resilient solution to a given problem.